I'm humble and welcoming. I'm the mother of 2 boys and I arrived in South Africa in April 2010. I'm a professional hairdresser with a constant ambition to learn new things. As we say, life is a fight, I'm trying my best to face my challenges with faith and a positive mind. I love doing my work, and I do it with passion. I'm also looking for more support to fulfill my expectations. I like to cooperate with others and my relatives, to persevere… Together we can!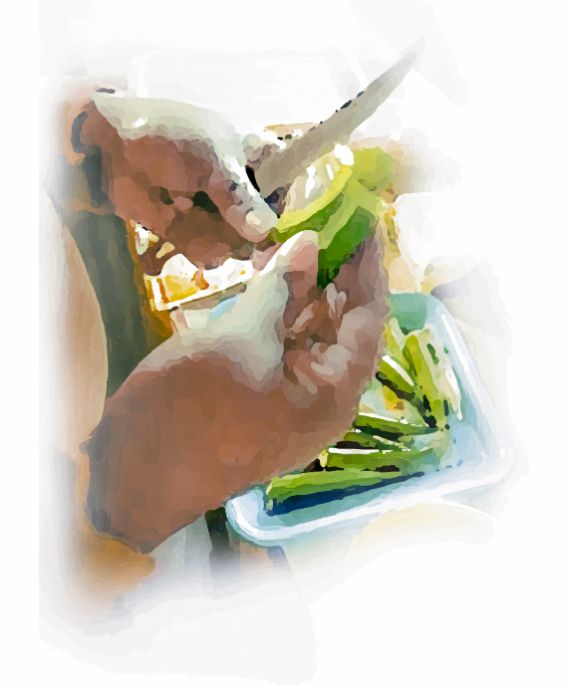 Okra with chicken
"Hello mamans! Hello everyone! Today I'm going to cook okra. This vegetable is very nice because it has many properties. We use it in many countries, like Congo, Nigeria, Ghana, Kenya… in many places people eat okra because it's very nice! So let's cook okra with chicken."
Ingredients:
Okra
Chicken drumsticks and thigh with skin
Fresh tomato
Onion
Red pepper
Tomato paste
Chicken stock
Instructions:
I like to first cut all my veggies, my okra, my tomato, my pepper and my onion. I cut it all small, small. I heat some cooking oil in a pot and I fry my veggies, starting with the onion. I fry my onion nicely, until it's well sautéed! Then, I add my tomato, my pepper, and at the end my okra. Keep this mix aside.
For the chicken, I first wash it nicely and I like to keep the skin! Then I season my chicken with salt and pepper. I heat some oil in a flat pan and let the chicken fry for about 7 minutes on each side. All the chicken pieces should be golden brown and well cooked!
Then you can simply mix your okra with the chicken, and of course you can eat it with pap and/or white rice!