Hello everyone, my name is la femme Sounamite, I'm a congolaise married to a camerounais man, I'm the mother of 2 handsome boys, and we live in Port Elisabeth. La femme Sounamite… she is a hard worker and an independent woman; she has a small business to make a living, but also has a national [Congolese] diploma in hospitality. She has also worked in sewing and as a caregiver, all just trying to make a living. All her life she liked to commit, everything with God's hand, and she also likes to socialize with other people. Thank you, and I'm not going to forget my PE ladies for their efforts, love and focus! ❤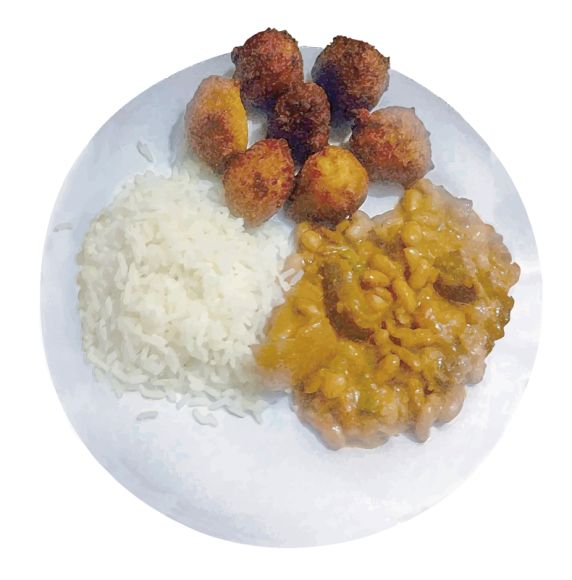 Des beignets1 haricots
Ingredients:
For the haricots                                                        
1kg red beans (haricots)
½ kilo beef
Tomato
Onion
Garlic
Green pepper
Black pepper
Salt
Cooking oil
Maggi

For the beignets or mikate
750g all-purpose flour
Sugar
2 cups of water
Baker's yeast
Eggs
Salt
Cooking oil

Instructions:
First I have my haricots here and I'm going to boil them, and in another pot I'm going to fry my meat with just a bit of salt. Meanwhile I'm going to make my beignets or mikate. For that I put my flour, my sugar, salt and yeast in a large bowl, and I mix everything. I use my hands to beat the dough with energy! Strong! Until there are no lumps and the dough is soft and very flexible, almost liquid. I then cover my mix and I let it rest for 1 hour, until it grows to double its original size. I heat a lot of oil in a cooking pot and when it's hot, I make small balls and put them in the oil2. Careful! There should be enough oil for the dough to float! And be careful the oil is not too hot, or you will burn the beignets! Let each side brown for about 1 minute and then let them cool on absorbent paper.
For my haricots, in a hot pan I put some oil and I sauté my onion and salt for a couple of minutes. Then I cut nicely my tomato, my garlic, my green pepper, all the veggies and add them in the pan. I then add the cooked beans or haricots with the meat. And I serve this mix together with my fresh mikate, and I also like it with a bit of white rice.
1 Beignets is the French word for a sort of deep-fried pastry. In DCR this dish is locally known as mikate.
2 A good tip is to place a small bowl of water next to you and wet your fingers a little bit, then take a small amount of dough, roll it a bit, and carefully place it in the hot oil. Repeat this sequence for each beignet.