Bonjour! I'm maman Nasser, and I'm a proud mother of one child. I arrived in South Africa 6 years ago and I'm one of the women in the Congolese community. I'm living in Port Elizabeth and I'm a business woman who sells congolaise food. Since I was young, I was praying to be a brave woman and now I am how I wanted to be. Even if here in South Africa there are no jobs, I survive by selling food and working in the salon. Even if it's difficult, I know everything will work out for me.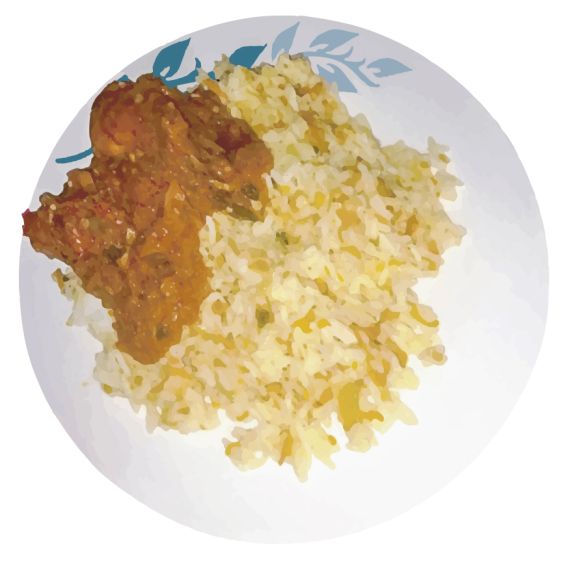 Ingredients:
Chicken drumsticks and wings
White rice
Carrot
Green peas
Yellow pepper
Fresh tomato
Tomato paste
Onion
Salt and pepper
Cooking oil
Instructions:
In one pot I'm going to boil my white rice. I just boil water, rice and salt for about 40 minutes until it's ready1. In another pot I'm going to boil my chicken. Meanwhile I'm going to grate my carrot. When my rice is cooked and my chicken is also ready, I put then aside in separate bowls.
In a pot, I first sauté my onion until it's soft, then I add my grated carrot. When the veggies are golden brown, I add my cooked rice and stir very well! In another pot I heat cooking oil and I add my onion, my fresh tomato, yellow pepper and tomato paste, then I season it with salt and black pepper. Once the mix is getting thick, I add my chicken and mix everything. Do not add water! Just cook the chicken with the tomato and veggies.
When the chicken is soft and well cooked, and my rice is nicely mixed with the carrot and onion, my food is ready! I like to cook this meal because my husband likes it too much, hehe!

1Remember that there are different types of rice and each one has a different cooking time, so just make sure you are using white rice and cook it as needed.