My life wasn't good. Throughout my youth, I always had tears in my life, but I knew somehow I would make it, I did my best to be who I am, and I am proud of myself, because nothing can stop me from moving forward. That's why even now I am still studying to build and secure my future, even if is not easy. But I hope everything will be fine. YES I CAN!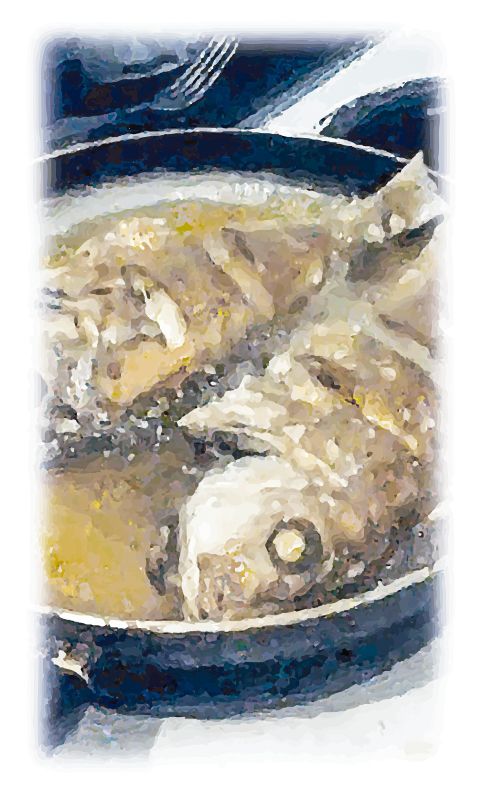 Mpiodi or Thomson ya Kotumba
Grilled fish with potatoes, pumpkin and banana
Ingredients
Thomson Fish
Green pepper
Spring onion
Coriander
Ginger and garlic spice
White and black pepper
Salt
And we are going to eat it with:
Grey skinned pumpkin (other types of pumpkin are fine)
Banana
Potatoes
Instructions
First clean the fish nicely with water, and then rub it all over with half a fresh lemon. Don't forget the insides! Then make some small cuts along the body of the fish and place some thin slices of lemon inside. Add some salt and leave it for 10 to 15 minutes. Meanwhile, mash together the onion, coriander and green pepper. You can use a mortar and pestle, I personally don't have this tool but you can always do with whatever you have. So I'm using my platter and my kitchen hammer to squash my ingredients. I'll also add a mix of ginger, garlic, black pepper and white pepper, and I spread this all over the fish. I'll just add cooking oil and mix it well then place the fish in aluminium foil, so it doesn't burn. I heat the oven to 180 degrees and leave it for a total of 20 minutes. Turn the fish after 10 minutes so both sides get nicely cooked.
And we are going to eat it with pumpkin, potato, and banana. First, let's steam the pumpkin. Pour water in the pot and then put some sort of steamer to protect the pumpkin, so it doesn't touch the water, and only the steam goes up. Once the water is boiling, leave it for 20 minutes.
For the potatoes, just wash them, cut them into slices (no need to peel them), add a bit of salt, pepper and a small amount of cooking oil. I put them in the oven for about 20 minutes. If you want, you can cook them together with the fish.
And for the banana, I usually use plantain, but because I cannot find it in South Africa, I'm replacing it with green banana. This is actually dessert banana (the regular yellow, sweet banana you can find in most places) but it's not ready to eat, so it's still green. I'll cut it into slices and fry it with lots of cooking oil until the pieces are crunchy. And your food is ready!