Hello! Ellade in Luganda! Nigahi in Runyankole Rukiga, my language 😀 I am a proud single mother of 1 child, currently living in Port Elizabeth. I've been self-employed now for 6 years, I'm from Uganda, and I work hard to support my family. Not everything has been easy since my childhood. I was born and raised by a single mother and l grew up struggling, until l decided to come to South Africa for greener pastures, so that l can support myself and my family back in Uganda. I hope one day my dreams will come true, and l will make it by God's Grace. Here in South Africa, we are in lockdown, trying to fight this coronavirus, but with God's grace, we are going to fight back! That's me, mama Anitah!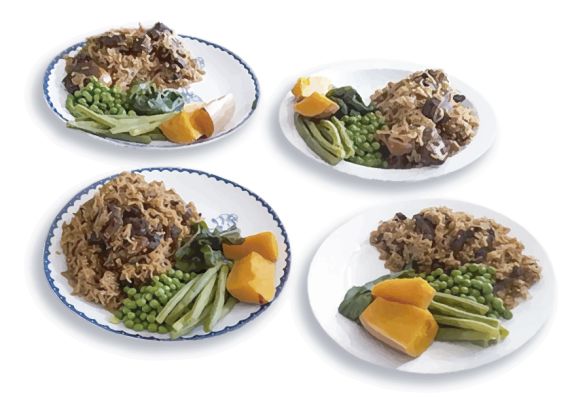 Pilau rice with lamb
Ingredients
I kg of basmati rice (if you cannot find basmati, you can use other types of white rice)
2 litres of water or beef broth
Onion
Cardamom
Cinnamon
Ginger
Cloves
Garlic
Lamb steaks1

Instructions
I start by adding some cooking oil to a pan, then when it's hot I add my lamb or any other meat and let it cook for 30 minutes. Stir when needed. When it starts to change its colour to golden brown, I add my onion until it's well sautéed, then I add my spices too: cardamom, powdered ginger, cloves, and garlic. Remember that all the spices should be ground! I then add raw rice and the water or broth and cover it with a lid. If you use only half a kilo of rice, add just one litre of water. Let it cook for about 45 minutes.
I like to serve it with fresh green peas, fried French beans, boiled spinach and pumpkin!
1I love goat meat because I grow up with my grandma and grandfather; my grandpa used to prepare goat meat for us, but he didn't cook the soup or grill the meat! But for this recipe you could also use beef or chicken if you want.